Patrick Troughton-Tomb of the Cybermen (2nd September, 1967)
Regarded by many Who fans as one of the best Doctor Who stories of all time, you need only watch Tomb to see why it's just so acclaimed.
In classic Who tradition, it blends wildly disparate genres with a remarkable ease. Classic horror fuses with just a touch of whodunnit murder mystery, except instead of a haunted house or resplendent mansion, we have an ancient alien tomb.
The set design is fantastic. While by today's standards it isn't up to much, the moody tombs and mysterious rooms seemed labyrinthine when I was kid, and even today I still get that feeling. The grainy black and white only adds atmosphere.
Of course, Patrick Troughton steals every scene as The Doctor. His eccentric uncle act is a very different take than Hartnell's stern grandfather. Hartnell may have started a fifty year legacy, but Troughton ensured it by absolutely selling the concept of regeneration. At this point, The Doctor is a complete mystery and the show has a delightful unpredictability to it.
The Doctor here is very much a clear inspiration for Matt Smith's bumbling Doctor (Smith watched Tomb after getting the part and loved it). He's wily, yet fallible and clearly cares about his companions, both of which he has very different relationships with.
He and Victoria clearly have a uncle/niece affection for one another while he and Jamie have a humorous Laurel/Hardy thing going on and an infectious chemistry that makes every scene they share infinitely watchable.
The Cybermen here are frankly the most terrifying they have ever been in the shows entire history. Freakishly strong and disturbingly human looking, their monotone drone of "you will be like us" still sends a shiver down my spine.
Decades later and Tomb of the Cybermen boasts a moody atmosphere, genuinely terrifying monsters and a Doctor giving a stellar performance. Classic Who, done 100% right.
So by now we all know that David Tennant and Billie Piper are coming back for the half century bash, along with the bloody Zygons (which I will never get bored of telling people) and the good old Brigadier's Daughter. I for one, don't believe we've had half the news and so here are ten more things that need to happen. I'm a greedy fan. Sue me.
Christopher Eccleston
Oh, he's said he isn't taking part… I don't care. The 9th Doctor is the reason Doctor Who is back on our tellies and so popular. He was dark, funny and genuinely scary at times and one season was nowhere near enough of him frankly. Kidnap his family, buy him his own island. I don't care, just get the bloody 9th Doctor back for this.
Daleks
I think they've become slightly overused of late, but it wouldn't be the 50th without an appearance from the shows first and most iconic monsters. They don't have to drive the entire plot either, just a Five Doctors style ten minute scene would do. Provided it doesn't involve The Doctor tricking it into firing at a mirror. Jesus.
Sophie Aldred
Because Ace was fucking brilliant, I don't care what anyone else says.
Paul Mgann 
For my money, one of the best Doctors. That he only got one shot to play The Doctor on screen is criminal. If there was ever a chance for the 8th Doctor to get some more (well deserved) screen time, for the love of God, this is it. Of course, it helps that his Doctor was given a new look a year or so back and that he recently refused to rule out appearing…
K9
Yes. Yes. Yes. Yes. Yes. If nothing else, it would be a nice tribute for the late, great Liz Sladen who we all know is going to be sorely missed in this very special episode that she should have (and I imagine would have) been a part of.
The Original Theme Music
Because screw looking to the future. I want the ethereal, simple and beautifully haunting 1963 score over the top of today's magnificent CGI opening sequence. That, or the McCoy era theme. I always loved that one. I think I have a problem.
References a Plenty.
It's been 50 years. I want Jelly Babies, long scarfs, cricket bats, Kamelion, the Eye of Harmony, Susan, Pease Pottage, Mike Yates, question mark lapels. Hell, name drop Adric. I'll take it all. I am a reference whore.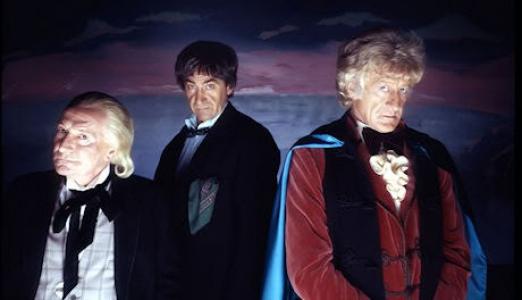 The First Three Doctors
I know they're all dead. However, they need to be included or acknowledged in some way, be it past footage or studio tomfoolery or whatever. If not Two and Three then at the very least William Hartnell needs some love as the man who started a fifty year and eleven man legacy.
A Decent Story
The Five Doctors was great, but if we look at it critically.. it wasn't. A handful of characters were relegated to sitting around the TARDIS and we actually had to watch that when we all wanted to see how the actually action was moving along. Don't get me wrong, I love The Five Doctors. But I want the 50th story to be a classic in its own right.
ALL THE DOCTORS
I know I've covered some already, but there you go. I love David Tennant and I am thrilled he's coming back. But the way I see it, we have them all back or we have none of them back. I don't think the fans give a shit if they don't look how they used to. That's been written away in the past. If it was ever going to be done and completely justified, it would be this extraordinary time in Who's life. The Eleven Doctors. Make it happen, Moffat.