50 years ago, William Hartnell, Verity Lambert, Sydney Newman and others perhaps unknowingly unleashed so much more than just a television program. They let loose a cultural icon, a legend, a modern fairy tale that has spanned decades and captured the hearts and minds of many generations of fans.
Day of the Doctor is a piece of television that has been fifty years in the making, make no mistake. Possibly the most anticipated and hyped piece of television ever, the all important question is, did it deliver?
Thankfully, God yes. Day of the Doctor was thrilling, funny, heartbreaking, scary and exciting. It was nostalgic without dwelling on the past and forward thinking without alienating the long time fans. If anyone else could come up with a better story for the 50th, I'd genuinely like to see it.
The story was a fairly typical Steven Moffat timey wimey affair. The three Doctors all had their own separate adventures which tied in together beautifully.
Matt Smith's started with a fantastic reference to Totters Lane and Coal Hill, two key locations in Who lore and quickly delved into an adventure with mysterious paintings and UNIT. It was only right to reference such an important group in the 50th and The Brigadiers daughter afforded the next best thing to the great Nick Courtney himself. She's also a fantastic character in her own right, which helps.
David Tennant's return was a thing of absolute joy as we finally saw what happened with Queen Liz and got a mini adventure with The Zygons (who looked fantastic). Seeing Ten interact with Eleven was hilarious, as The Tenth Doctor, with all his swagger looks disdainfully at the flappy awkward clumsiness of The Eleventh.
And then there's John Hurt, who finishes off the trinity of Doctors for this episode. His war Doctor was played artfully, a vague menace lurking underneath those tired eyes and a weariness, yet still with that mad Doctor spark. Finally seeing The Time War playing out was a dream. Daleks killing and exploding all over the shop in such excess and on such scale was brilliant.
Throwing Hurt into the mix with Tennant and Smith made for some fantastic scenes. Hurt obviously representing the old guard as he  questioned much of what the two young Doctors did. Hurt disgustedly asking, "Timey Wimey?" to Tennant's sly "I don't know where he got that from" was a particular highlight.
Then we had the game changing ending, a fanboy baiting sequence in which twelve (or was it thirteen?) TARDISes blitzed through a Dalek fleet to save Gallifrey. See? The classic Doctors were in there after all (kind of). And Gallifrey falls no more? A brilliant move. Seeing the Doctor finally find a way to move on with the whole Last of the Time lords schtick is refreshing and should make for an interesting ark in the next series.
Finally, it would be remiss of me to end this review without mentioning (but not in detail) two masterfully subtle cameo appearances. One of which looks firmly and excitingly to the future while the other was a beautifully done nod to the past.
After 50 years, The Doctor has finally stopped running and is genuinely out there to find something. Day of the Doctor was nothing short of a perfectly balanced, thrilling adventure that seamlessly sets up the future of the show while paying tribute to the past. Here's to another 50.
We all saw it coming. it was at Comic Con when it was confirmed that The Daleks (those metal bastards) will be making an appearance in the much anticipated Doctor Who 50th anniversary bash.
One may express concern that with this on top of Zygons, the tenth Doctor, Rose, Queen Elizabeth and John Hurt as some super nasty prick Doctor, that the 50th may collapse under its own weight.
The Daleks need to be used smartly to avoid such crushing dissapointment. Here are five things those pepperpots could be up to. I'll leave you to decide which ones are legit. 
Plumbing
Because after 50 years of watching the Doctor do battle with the Daleks, it would be nice to see them finally use their plungers to unclog a toilet or something. 
Cameo
Because after all this hype, there would be nothing better than seeing the iconic villains sidelined or only shown for a few seconds. There's nothing funnier (or easier) than annoying internet fanboys.
Save The Doctor
Celebrating half a century deserves a twist and if anyone could predict The Daleks cutting in to save the day, I'll eat my hat. I'd have to buy one first mind. Of course, it'd never happen because it would just ruin what makes Daleks Daleks. 
Grow Legs
Imagine a Dalek with long, smooth lady legs. That image is worth tuning in alone, surely?
Flashback
Probably what is going to happen. Going from the pictures we've seen, it looks like a flashback to the Time War. Something Whovians have been foaming at the mouth to see since the idea came up in 2005
This has been a pointless post borne of a lack of imagination or anything worthwhile to say. Cheers for reading 
So by now we all know that David Tennant and Billie Piper are coming back for the half century bash, along with the bloody Zygons (which I will never get bored of telling people) and the good old Brigadier's Daughter. I for one, don't believe we've had half the news and so here are ten more things that need to happen. I'm a greedy fan. Sue me.
Christopher Eccleston
Oh, he's said he isn't taking part… I don't care. The 9th Doctor is the reason Doctor Who is back on our tellies and so popular. He was dark, funny and genuinely scary at times and one season was nowhere near enough of him frankly. Kidnap his family, buy him his own island. I don't care, just get the bloody 9th Doctor back for this.
Daleks
I think they've become slightly overused of late, but it wouldn't be the 50th without an appearance from the shows first and most iconic monsters. They don't have to drive the entire plot either, just a Five Doctors style ten minute scene would do. Provided it doesn't involve The Doctor tricking it into firing at a mirror. Jesus.
Sophie Aldred
Because Ace was fucking brilliant, I don't care what anyone else says.
Paul Mgann 
For my money, one of the best Doctors. That he only got one shot to play The Doctor on screen is criminal. If there was ever a chance for the 8th Doctor to get some more (well deserved) screen time, for the love of God, this is it. Of course, it helps that his Doctor was given a new look a year or so back and that he recently refused to rule out appearing…
K9
Yes. Yes. Yes. Yes. Yes. If nothing else, it would be a nice tribute for the late, great Liz Sladen who we all know is going to be sorely missed in this very special episode that she should have (and I imagine would have) been a part of.
The Original Theme Music
Because screw looking to the future. I want the ethereal, simple and beautifully haunting 1963 score over the top of today's magnificent CGI opening sequence. That, or the McCoy era theme. I always loved that one. I think I have a problem.
References a Plenty.
It's been 50 years. I want Jelly Babies, long scarfs, cricket bats, Kamelion, the Eye of Harmony, Susan, Pease Pottage, Mike Yates, question mark lapels. Hell, name drop Adric. I'll take it all. I am a reference whore.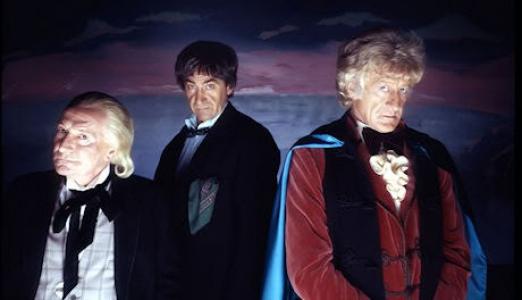 The First Three Doctors
I know they're all dead. However, they need to be included or acknowledged in some way, be it past footage or studio tomfoolery or whatever. If not Two and Three then at the very least William Hartnell needs some love as the man who started a fifty year and eleven man legacy.
A Decent Story
The Five Doctors was great, but if we look at it critically.. it wasn't. A handful of characters were relegated to sitting around the TARDIS and we actually had to watch that when we all wanted to see how the actually action was moving along. Don't get me wrong, I love The Five Doctors. But I want the 50th story to be a classic in its own right.
ALL THE DOCTORS
I know I've covered some already, but there you go. I love David Tennant and I am thrilled he's coming back. But the way I see it, we have them all back or we have none of them back. I don't think the fans give a shit if they don't look how they used to. That's been written away in the past. If it was ever going to be done and completely justified, it would be this extraordinary time in Who's life. The Eleven Doctors. Make it happen, Moffat.