It's hard to remain objective when writing about your all time favorite Doctor. However, I'll try to exercise some restraint. McCoy is the first Doctor I can really, properly remember watching. My dad started us on a watch through the entire show when I was quite young, but towards the end of that first go through Who, I have so many distinctive memories of the McCoy era (mostly being scared shitless by the Curse of Fenric and Ghost Light).
So Remembrance is really my first Dalek story (growing up a Who fan in the 90s was tough). I still absolutely adore everything about it, from the fifties setting to Daleks blowing each other up, even more so now. My added knowledge appreciates the subtle references to the very first Doctor Who story, An Unearthly Chld.
But removing my rose tinted shades, is it actually any good? Well, yeah. This was the time when Doctor Who was finally starting to get back on its feet and get really good again. The trouble was, most people had stopped bothering with a show they thought was about dodgy sets and grown men in stupid costumes acting silly.
McCoy is on form here, his seventh Doctor had moved away from the clownish berk that he was in his first series and has begun to develop into a thoughtful, brooding, slightly menacing Doctor. His companion Ace is also the first companion to show real signs of developing and a result is a well rounded, likeable character. A refreshing change of pace from Bonnie Langford.
The story itself is slightly confusing, with two separate Dalek factions battling it out over some ancient Gallifreyan artefact but it does't matter. The kid in you will always leap at the chance to see Daleks blowing the shit out of each other. It's also the first episode to show the world that they can indeed go up stairs, silencing all those smart arsed little pricks.
We also have a brilliant last episode reveal of Davros, who over time has become so batshit mental that he's now convinced he is in fact a Dalek, and his confrontation with The Doctor is still a fantastic moment. It's easy to see why The Daleks become scared of The Doctor, here, he coolly faces down their emperor and tricks them into blowing up their home planet. McCoy. Rocking the Dark Doctor decades before it was cool.
No one knew that this would be the last Dalek story of the classic series, but really, it was the perfect way for The Doctors most popular enemies to bow out. Also, one last time, Daleks. Blowing each other up. That's worth the ticket price alone guys.
So by now we all know that David Tennant and Billie Piper are coming back for the half century bash, along with the bloody Zygons (which I will never get bored of telling people) and the good old Brigadier's Daughter. I for one, don't believe we've had half the news and so here are ten more things that need to happen. I'm a greedy fan. Sue me.
Christopher Eccleston
Oh, he's said he isn't taking part… I don't care. The 9th Doctor is the reason Doctor Who is back on our tellies and so popular. He was dark, funny and genuinely scary at times and one season was nowhere near enough of him frankly. Kidnap his family, buy him his own island. I don't care, just get the bloody 9th Doctor back for this.
Daleks
I think they've become slightly overused of late, but it wouldn't be the 50th without an appearance from the shows first and most iconic monsters. They don't have to drive the entire plot either, just a Five Doctors style ten minute scene would do. Provided it doesn't involve The Doctor tricking it into firing at a mirror. Jesus.
Sophie Aldred
Because Ace was fucking brilliant, I don't care what anyone else says.
Paul Mgann 
For my money, one of the best Doctors. That he only got one shot to play The Doctor on screen is criminal. If there was ever a chance for the 8th Doctor to get some more (well deserved) screen time, for the love of God, this is it. Of course, it helps that his Doctor was given a new look a year or so back and that he recently refused to rule out appearing…
K9
Yes. Yes. Yes. Yes. Yes. If nothing else, it would be a nice tribute for the late, great Liz Sladen who we all know is going to be sorely missed in this very special episode that she should have (and I imagine would have) been a part of.
The Original Theme Music
Because screw looking to the future. I want the ethereal, simple and beautifully haunting 1963 score over the top of today's magnificent CGI opening sequence. That, or the McCoy era theme. I always loved that one. I think I have a problem.
References a Plenty.
It's been 50 years. I want Jelly Babies, long scarfs, cricket bats, Kamelion, the Eye of Harmony, Susan, Pease Pottage, Mike Yates, question mark lapels. Hell, name drop Adric. I'll take it all. I am a reference whore.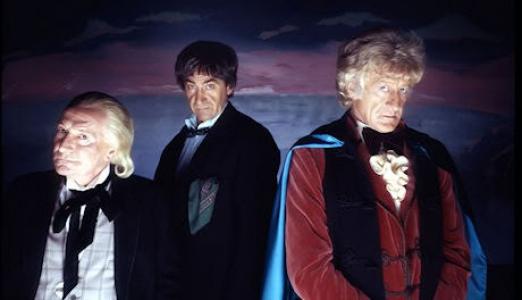 The First Three Doctors
I know they're all dead. However, they need to be included or acknowledged in some way, be it past footage or studio tomfoolery or whatever. If not Two and Three then at the very least William Hartnell needs some love as the man who started a fifty year and eleven man legacy.
A Decent Story
The Five Doctors was great, but if we look at it critically.. it wasn't. A handful of characters were relegated to sitting around the TARDIS and we actually had to watch that when we all wanted to see how the actually action was moving along. Don't get me wrong, I love The Five Doctors. But I want the 50th story to be a classic in its own right.
ALL THE DOCTORS
I know I've covered some already, but there you go. I love David Tennant and I am thrilled he's coming back. But the way I see it, we have them all back or we have none of them back. I don't think the fans give a shit if they don't look how they used to. That's been written away in the past. If it was ever going to be done and completely justified, it would be this extraordinary time in Who's life. The Eleven Doctors. Make it happen, Moffat.