yesterday's glorious E3 trailer showcased three brand new characters to the Nintendo fighting franchise. Mega Man and Animal Crossing Villager were the two predictable but still great entries, while the Wii Fit trainer was a brilliantly mental surprise.
But we can assume that the surprises won't stop there, so here are ten characters that I think should join the line up. Quick word before we start; I know this has been done to death, but it's my blog so screw you.
Oh, and if there happens to be a third party character in here, it's because they are associated with Nintendo in some way (That's how Smash Bros. works). If you were expecting to see Master Chief or the guy on the front of Pringle tubes, you are gonna be disappointed.
Also, one character per franchise. I only include this rule for myself, otherwise I would end up putting in ten Zelda characters.
Ridley (Metroid series)
For the past three generations of Smash Bros. games, Samus Aran has been the only character to represent her series. Fair enough, the whole point of Metroid is isolation but that reptilian bastard Ridley is probably one of the most popular bosses in Nintendo history.
They may have to scale down his size a little, but he could be a great flying/heavy character using his tail and flames for some badass long ranged attacks, while his claws get shit done up close.
His Final Smash could be turning into Meta Ridley in a Giga Bowser/Ganon style where he's afforded a small window of time to destroy every living thing on screen.
Young Link (The Legend of Zelda series)
I know he was in Melee and was exactly the same as Link so just hold up a sec. I'm talking Link from Majora's Mask. Similar to the Pokemon Trainer, a certain move could turn him into Goron, Deku, and Zora link, all with their own attacks.
Of course the Final Smash would have to be Fierce Deity Link. Come to FUCK SHIT UP.
Raichu (Pokemon series)
Screw Pikachu. Yeah, he's the mascot of Pokemon and the famous face that everyone loves, but Raichu is so much more. You just know he's a tough guy, plus he's cuter than Pikachu and that tail could be used for some cool attacks.
His Final Smash? A shit load of electricity rains down from the sky and destroys everyone in it's path.
Tom Nook (Animal Crossing series)
We all saw the trailer. That terrifying glint of murder in the villager's eyes. Such an agent of chaos needs a counterpart to keep it in check. The Ying to his Yang, the light to his dark.
Tom Nook could fulfill that purpose. I'm not entirely sure what his moveset would be, besides throwing bags of money and maybe setting his twin nephews on everyone, but he'd be a laugh to play as.
His Final Smash would probably involve him dropping a house on someone, I imagine.
Mii (Miiverse)
I was unsure about this at first, but if the Wii Fit trainer is in it, I am certain that the Mii is gonna put in an appearance now.
He/she will likely use all manner of Wii Sports items like golf clubs and bowling balls to attack.
Their Final Smash could be a horde of thousands of miis, swarming the screen like locusts and laying waste to the stage.
Leon S. Kennedy (Resident Evil series)
Not really a Nintendo character, but he did star in Resident Evil 4 which was one of the best games to ever grace a Nintendo console, so that's close enough in my book.
He'd play similar to Snake did in Brawl, except less stealthy and maybe more hand to hand, using a knife. Or he could just pistol whip everyone. That'd work.
Maybe his Final Smash could include some heavy artillery? Possibly a rocket launcher that homed in on whoever was in the lead.
Toad (Super Mario series)
If nothing else, poor old Toad should finally get a spot on the roster on the grounds that he's been used as Princess Peach's bitch in the last two games. Nothing more than a human shield, a cruel mockery of the proud Toad name.
He'd be a zippy little fella with fairly light melee attacks and possibly the ability to lob poison shrooms at foes.
His Final Smash would involve him consuming a mega mushroom and crushing his enemies into the dirt.
Tetris Block (Tetris series)
I have absolutely no helpful suggestions or hints as to how it could possibly work as a character. I just know I want to see it happen. Maybe it could just ram into enemies at full speed and for a Final Smash cover the screen in Tetris blocks (Tetri?).
Can you tell I'm regretting my one character per franchise rule yet?
Slippy Toad (Starfox series)
I hate this guy. You hate this guy. Fox McCloud hates this guy. The only reason I want him as a character is so I can beat him remorselessly and without end. Even his Final Smash should just be him lying down and letting everyone stomp on him.
On the other hand, he could just replace Sandbag as an item and we can have Sandbag as a character…
Master Hand (Smash Bros. series)
Because if you tell me you don't want to play as a giant laser shooting hand, you are a liar sir. It's about time we finally got to play as the main bad guy of the series (The glitch in Melee doesn't count).
We know he has a rounded move set, and having four of them on the screen at any one time would be chaos. They'd need to figure out how he could use items but I'm already sold on the idea.
For his Final Smash, he could call up his old buddy, Crazy Hand for twice the er… craziness.
Agree? Disagree? Tell me what an ignorant idiot I am in true Internet Comment fashion.
The fateful day has come. Matt Smith has announced he is leaving Doctor Who, giving Steven Moffat the chance to ruin Christmas for a nation. A task he will no doubt relish.
So here is a list, in no particular order, of ten actors who could replace him, or should play the part somewhere down the line for the show. If you disagree feel free to comment with your name and address so I can come over and slap you across the face for not seeing things my way (that was a joke, I'm a pussy).
Oh and just to clarify, if you're the sort of person who expects to see Russel Brand or Noel Fielding on this list, you shouldn't be watching Doctor Who. Seriously, just stop.
Ten: John Hurt (Harry Potter, Alien, Doctor Who, Much more)
I always wanted John Hurt to play The Doctor before the big reveal at the end of the recent series (honestly). As such, as soon as I heard he'd been cast for the 50th I kinda had the feeling there was only one part he could possibly be playing and I nailed it. Although, I nailed it at the expense of spoiling for myself what was meant to be a brilliant reveal during The Name of The Doctor.
In any case, since the show came back I've wanted to see an older man playing The Doctor again, if only because if they carry on the way they're going the 13th Doctor will be a ten year old.
John Hurt just seems to look the part in a way few actors do. In Harry Potter he had the whole mysterious "I know more than you Harry lololol" thing going on which The Doctor should always have. He can also let deadly larval aliens burst out of his chest like no other actor on the planet, which is a bonus. On the other hand, if we can't have an old Doctor…
Nine: Andrew Garfield (The Amazing Spider Man, The Social Network, Doctor Who… again)
This one has nothing to do with my worryingly powerful man crash on him, or the fact that his hair rivals David Tennant's in the so good it must be alien category. From what I've seen of him, I just genuinely believe he has the potential to be a truly mad, eccentric Doctor full of energy.
On top of that, we know he can do the whole "acting" lark quite well and cleary has a good range. Something that is probably helpful when you're playing a batshit crazy alien. Again, you may call me shallow, but it mostly boils down to me thinking he has the right "look" about him. I can't put my finger on it. I guess I just fancy him a bit too much.
Eight: Thomas Sangster (Nowhere Boy, Doctor Who… sorry)
I will admit that in the case of this chap, we're gonna need to give it a few more years, but I think he's got the potential to make a cracking Doctor.
It's mostly his appearance in Doctor Who (Human Nature/Family of Blood) that got me thinking about him for the role. It's not that he does anything particularly Doctorish, but the way he delivers some of his lines remind me so much of third Doctor (Jon Pertwee) that I think he could play the role in a similar way. Stern yet stylish with a penchant for Velvet. Maybe not the velvet thing.
Seven: Paterson Joseph (Neverwhere, Doctor Who, oops)
I know what you're thinking when you look at the picture. How could they cast the Doctor as… someone without hair? P J was actually strongly rumoured for the role after David Tennant announced he was leaving and I for one thought it would have been a brilliant call.
You only need to watch him as the smarmy and eccentric Marquis de Carabas in Neil Gaiman's excellent Neverwhere TV series to see why he would make a fantastic Doctor.
Six: Martin Freeman (Sherlock, The Hobbit, Hitch Hikers Guide to the Galaxy)
Hold onto your panties fan girls of Tumblr, but I don't think that Benedict "Sherlock" Cumberpatch should ever play The Doctor. He is a terriffic actor, but I think for the most part his characters are just a little too graceful, cold and in control. If there's one thing The Doctor should never be, it's completely in control… and very rarely cold.
Freeman on the otherhand is immensely likeable and can play the bumbling adventurer very well. In Sherlock, The Hobbit and Hitch Hikers, he is a character who is unwillingly pulled into an adventure. Of course the Doctor is always looking for adventure, but never trouble. Freeman would make a cracking unwilling, bumbling and perhaps quite hapless Doctor.
Five: Alan Rickman (Harry Potter, Dogma)
Perhaps not these days, as most people would have a hard time getting Professor Snape out of their heads. However, in Kevin Smith's Dogma he played a brilliantly smarmy, sarcastic dick that – if toned down a little -would have made quite a good Doctor.
Of course, we'd have to see a little more than smarminess or we'd get pretty bored of him before long.
Four: Richard E. Grant (Withnail & I Surprise… Doctor Who)
Annoyingly, this will never happen now as he recently played the big bad of Series 7 as the revived Great Intelligence. It's a shame since on two occasions he played the Doctor during the Series' state of flux. Once in a kind of forgettable animated format. The other occasion was for about thirty seconds but much more memorable…
Steven Moffat (whoever that guy is) wrote a spoof skit for Comic Relief in the 90s featuring Rowan Atkinson as the 9th Doctor. He regenerates into some well known actors several times in the spoof but by far the best performance was Grant's. It was only a sketch and only a few seconds but he just nailed the part. A shame we'll never see him do it again.
You can check him (and some other big names) out as The Doctor here:
Three: Paul Mgann (Withnail & I, Doctor Who)
GIVE ME BACK THE EIGHTH DOCTOR. GIVE MGANN MORE SCREEN TIME NOW.  Sorry.
Two: Dylan Moran (Black Books, Shaun of the Dead)
I'm not really sure if this is because I think his eccentric bastard Bernard Black character would make a good Doctor, or if it's just because I want to see him and Manny travelling together in the TARDIS. Either way I think I'd be sold on this one.
One: Andrew Gower: (Being Human)
Sadly, I'm only aware of Gower from Being Human, but it was one of those rare moments for a picky bastard like me where I just knew I wanted to see him as The Doctor.
He just has something of The Doctor about him. The Tennant/Baker wide eyes, the madness… just a general air of Doctorishness. Gower is my top choice for Doctor number 12.
But that's the thing with a new Doctor at the end of the day. I can almost guarantee it won't be anyone we're expecting. You can ignore all the odds involving Rupert Grint and James Nesbitt and the names that come up everywhere. If any one person on the planet can tell me they were expecting Matt Smith to be the 11th Doctor, they're a liar.
One thing's for sure. Whoever they pick, they're gonna have one hell of a job replacing the man who made me forget David Tennant in less than five minutes.
So by now we all know that David Tennant and Billie Piper are coming back for the half century bash, along with the bloody Zygons (which I will never get bored of telling people) and the good old Brigadier's Daughter. I for one, don't believe we've had half the news and so here are ten more things that need to happen. I'm a greedy fan. Sue me.
Christopher Eccleston
Oh, he's said he isn't taking part… I don't care. The 9th Doctor is the reason Doctor Who is back on our tellies and so popular. He was dark, funny and genuinely scary at times and one season was nowhere near enough of him frankly. Kidnap his family, buy him his own island. I don't care, just get the bloody 9th Doctor back for this.
Daleks
I think they've become slightly overused of late, but it wouldn't be the 50th without an appearance from the shows first and most iconic monsters. They don't have to drive the entire plot either, just a Five Doctors style ten minute scene would do. Provided it doesn't involve The Doctor tricking it into firing at a mirror. Jesus.
Sophie Aldred
Because Ace was fucking brilliant, I don't care what anyone else says.
Paul Mgann 
For my money, one of the best Doctors. That he only got one shot to play The Doctor on screen is criminal. If there was ever a chance for the 8th Doctor to get some more (well deserved) screen time, for the love of God, this is it. Of course, it helps that his Doctor was given a new look a year or so back and that he recently refused to rule out appearing…
K9
Yes. Yes. Yes. Yes. Yes. If nothing else, it would be a nice tribute for the late, great Liz Sladen who we all know is going to be sorely missed in this very special episode that she should have (and I imagine would have) been a part of.
The Original Theme Music
Because screw looking to the future. I want the ethereal, simple and beautifully haunting 1963 score over the top of today's magnificent CGI opening sequence. That, or the McCoy era theme. I always loved that one. I think I have a problem.
References a Plenty.
It's been 50 years. I want Jelly Babies, long scarfs, cricket bats, Kamelion, the Eye of Harmony, Susan, Pease Pottage, Mike Yates, question mark lapels. Hell, name drop Adric. I'll take it all. I am a reference whore.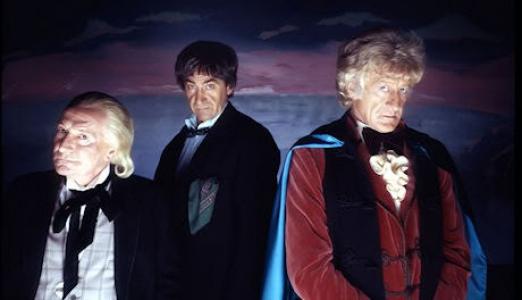 The First Three Doctors
I know they're all dead. However, they need to be included or acknowledged in some way, be it past footage or studio tomfoolery or whatever. If not Two and Three then at the very least William Hartnell needs some love as the man who started a fifty year and eleven man legacy.
A Decent Story
The Five Doctors was great, but if we look at it critically.. it wasn't. A handful of characters were relegated to sitting around the TARDIS and we actually had to watch that when we all wanted to see how the actually action was moving along. Don't get me wrong, I love The Five Doctors. But I want the 50th story to be a classic in its own right.
ALL THE DOCTORS
I know I've covered some already, but there you go. I love David Tennant and I am thrilled he's coming back. But the way I see it, we have them all back or we have none of them back. I don't think the fans give a shit if they don't look how they used to. That's been written away in the past. If it was ever going to be done and completely justified, it would be this extraordinary time in Who's life. The Eleven Doctors. Make it happen, Moffat.